Although the film on paper seems interesting, even intriguing, the relationship between the two women lacks substance.
But this is Gallagher's debut as a filmmaker, so we will forgive her for her lack of experience.
"Clementine" was virtually released on May 8, 2020, on Oscilloscope for North America after a world premiere at the 2019 Tribeca Film Festival.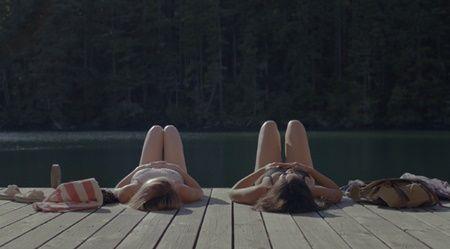 The story is about Karen (Otmara Marrero), a lesbian living in Los Angeles who is struggling to recover from a complicated breakup with her cheating ex D (Sonya Walger).
She sets out to escape the city to find both their shared dog and her ex's idyllic lakefront home in Oregon.
But her out-of-town retreat will be interrupted by Lana (Sydney Sweeney), a mysterious and attractive young woman with big-city dreams and whom Karen can't seem to resist.
Some parts of the film certainly lack substance, as I told you, but the story is still pleasant to watch.
The cast's performance, especially Sydney Sweeney (The Handmaid's Tale), Katy Jarzebowski's music, and the sets are exceptional when taken separately.
I leave it to you to judge the film, which already has the merit of being there and represents a promising debut for Lara Jean Gallagher as a filmmaker. Here is the trailer:
"Clementine" can be watched virtually here: clementine.oscilloscope.net
You can get the latest news about "Clementine" on Instagram, Facebook, and Twitter.