The much-anticipated third season of "Harley Quinn" started filming in September 2020, and showrunners Patrick Schumacker and Justin Halpern have promised that the new season will be even more thrilling than the second, with more action, more humor, and more surprises in store.
Guess What's In Store For "Harley Quinn" Season 3?
It's been a long wait, but season 3 of the "Harley Quinn" animated series has finally been released and the story has picked up where it left off. Our two heroines are back after their Eat. Bang! Kill. Tour. They are now the new most powerful couple of DC villainy, and they are sure to cause all kinds of trouble in Gotham City.
HBO Max's synopsis for season three of "Harley Quinn" says the mayhem and madness continue in the new season of this biting and uproarious adult animated comedy series.
It reads: "Wrapping up their 'Eat. Bang! Kill. Tour,' Harley Quinn and Poison Ivy return to Gotham as the new power couple of DC villainy. Along with their ragtag crew - King Shark, Clayface, Frank the Plant - "Harlivy" strives to become the best version of themselves while also working towards Ivy's long desired plan of transforming Gotham into an Eden paradise."
Harlivy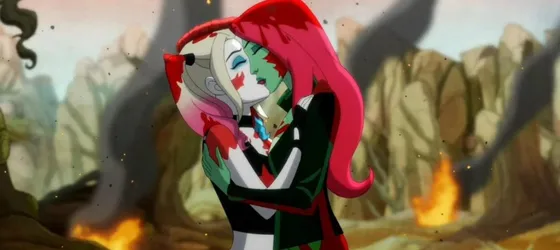 Harley Quinn and Poison Ivy's relationship is one of the most iconic queer relationships in pop culture. And while their relationship has been explored a little bit, it's never been given the depth or nuance that it deserves - until now. The showrunners have said that they want to explore the depths of Harley and Ivy's relationship in season 3. In an interview with Deadline, Schumacker and Halpern confirmed that the new season will explore more of Ivy's backstory while expanding on her romantic relationship with Harley.
"[...] when you've mostly been in toxic and bad relationships your whole life, how do you then be in a good one? How does the baggage that you bring from all these other relationships affect the relationship you're in that you really want to work?"
We've already seen a few glimpses of what Harley and Ivy mean to each other, but with Ives taking a more central role, it's clear that it is going to have a big impact on the dynamic between her and Harley. We will also see some surprising alliances as our beloved anti-hero is about to team up with Nightwing and Batgirl of the Batfamily.
Commissioner Gordon
In this new season, Commissioner Gordon will be working hard to clean up the GCPD and restore his reputation.
The Joker
Who would have thought a clown could ever run for mayor in Gotham City? But that's exactly what the Joker has done, and he already has a formidable opponent in Jim Gordon. Given the current state of affairs in Gotham, I wouldn't be surprised if the Joker wins. After all, anything seems possible in Gotham City. And with the Joker as mayor, who knows what might happen?
Watch The Trailer For "Harley Quinn" Season 3
Set to the song "Bad Reputation" by Joan Jett and the Blackhearts, the trailer gives us our first glimpse of all the madness that the new season brings.
"Harley Quinn" Season 3 Out Now!
Finally, after what feels like an eternity, season 3 of "Harley Quinn" is available on HBO Max.