It is not always easy to switch from short films to full-length ones. Many directors have not been able to achieve the same success with a longer format. So Swale collaborated with actresses Gemma Arterton (Vita And Virginia) and Gugu Mbatha-Raw again.
Arterton, Gugu Mbatha-Raw and Swale, here is a trio that has already proven itself in "Restauration", in which the two actresses were already the stars!
Together they have embarked on the creation of a new drama entitled "Summerland".
"Jessica gave me a wonderful gift in the character of Nell Gwynn, and she's done it again with Alice in Summerland," Gemma Arterton said in a recent interview. "Jessica is an exciting new voice in film and I'm very privileged to be able to work with her as a director. She has impeccable instincts, a clear vision, and inspires confidence in everyone around her."
Summerland
When the movie opens, we meet Alice Lamb (Gemma Arterton), a rather grumpy British lesbian writer who lives alone in her seaside cottage during World War II.
There are many gossips about Alice in the village and local schoolchildren like to play bad jokes on her.
But one day, Alice is given custody of Frank (Lucas Bond), a child evacuated from London where he was under constant air raids by the Nazi army while his parents take part in the war effort.
As the days with Frank go by, Alice opens her heart and goes back to the years before the war, those years during which she met Vera (Gugu Mbatha-Raw), the great love of her life.
Behind the story of this solitary lesbian writer is also a love story between two women that we follow in the form of flashbacks.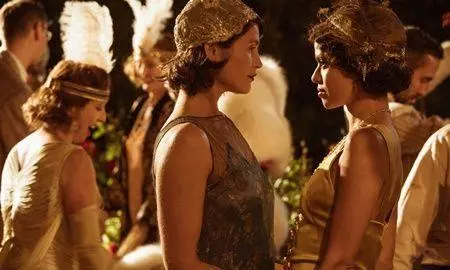 Photo by Michael Wharley
Of course, each of you will be free to make your own judgment about this movie. I found that even if the trailer and the story make you think of a quality film and provoke a lot of interest, and even if the movie is nice, you can feel the lack of experience of director Jessica Swale on a feature film format.
I find that the film lacks substance and depth, and it's very frustrating because it's a beautiful story.
Nevertheless, there is a fantastic cast, playing both primary and secondary roles.
Where To Watch Summerland?
As it was possible to make "Summerland" under good circumstances, the shooting took place last year before the coronavirus pandemic began, the film was released as planned on July 31, 2020. So you can watch the trailer below:
Then you have two options to watch "Summerland":
the movie was released in theaters
and is also available on VOD on various platforms.
Visit the official website for tickets and links: summerlandmovie.com.