Originally, "Make Up" was only meant to be a short film in which the 35-year-old director and screenwriter Claire Oakley wrote the very simple scenario about "a girl, following another girl, through some streets in a foreign town" based on one of her dreams as she told The Guardian.
For the record, Claire Oakley was married to a man at the time and hadn't come out yet, so it's pretty funny to see what her subconscious suggested to her.
And maybe that's also why she'll drop out pretty soon, not being able to figure out why this girl is following the other girl in this story.
But a sentence from one of the authors gathered during a writing session on the project will stay in her head for several years: 'Oh, so you're a lesbian, then', thinking that the story was too.
He was quick to see what Oakley understood five years later: The girl in the story follows the other girl because she's simply attracted to her.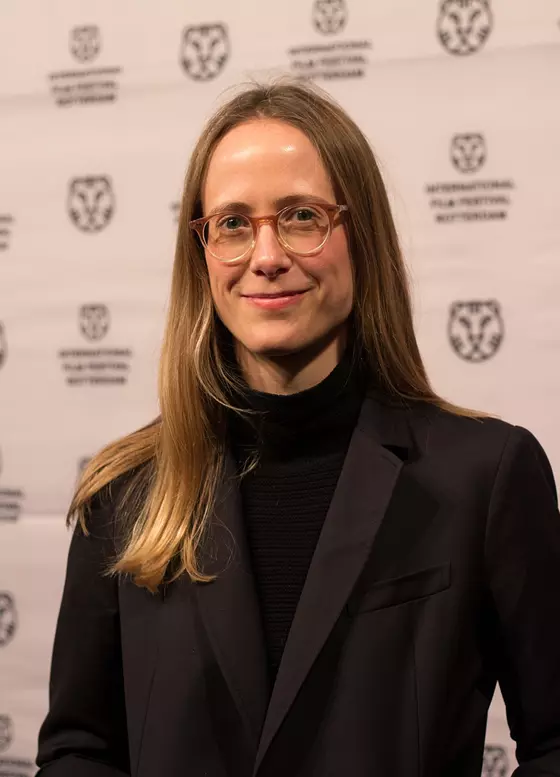 Claire Oakley
Since then, Oakley has come out. She's now married to a woman and joins the list of queer directors we'll be happy to follow.
Now let's talk about the story of "Make Up".
The Synopsis Of "Make Up"
Reserved teenager Ruth (Molly Windsor) moves in with her boyfriend Tom (Joseph Quinn) in a remote holiday park.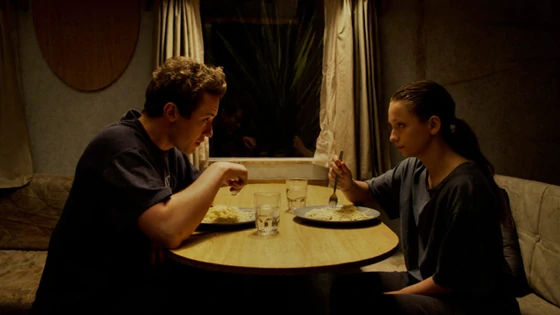 When she finds a smeared lipstick stain on Tom's mirror and a strand of red hair on his T-shirt, a sense of unease creeps into their caravan. Refusing to confront Tom with the discovery, Ruth tries to find the mysterious red-haired girl.
When she starts to work with the confident and vivacious Jade (Stefanie Martini), her scarlet nails and the hint of red in her hair amplifies Ruth's growing fixation. Ruth tries to keep her misgivings at bay but her haunting suspicions begin to feed an obsession that threatens her relationship with Tom.
As a distance opens up between them, Ruth finds herself both intrigued and fearful of getting closer to Jade. Little does she know something entirely different from jealousy may be haunting her...
The Result Is Bluffing
Often the transition to feature film format is the critical moment that determines a director's career. Either it works and promises great movies to come, or it didn't.
Here, Claire Oakley not only takes us into the story, but she does it with mastery. It doesn't feel like her first feature film at all.
The Trailer
The atmosphere of this coming-of-age drama is pretty dense, almost like in thrillers, or even horror movies, related to the fear of self-discovery.
It is captivating to see intriguing because you never know what is going to happen. There is a huge suspense.
Watch the trailer:
The Anecdote From Filming "Make Up"
"Make Up" is an independent film that was quite fun to shoot in the UK.
"When we were shooting the sex scenes, I was like: God, I really hope they [the people who run the park] don't walk in because they're going to think we're making a porno, and we're going to get chucked out," Oakley laughs.
Where To Watch "Make Up"?
"Make Up" is available on UK streaming platform Curzon, and Showtime in USA.