From PUMA With Love
This 13-piece pack includes rainbow-themed t-shirts, sweatshirts, tank tops, slides sandals, and a bag.
Items and accessories are affordable, ranging from $20 to $45, and can be ordered directly online at puma.com.
What's cool, too, is that you can wear any of the things in the "From PUMA With Love" pack, no matter what your clothing style.
PUMA And Cara Delevingne
PUMA has been one of the brands committed to the LGBTQ+ community for years.
By partnering with Cara Delevingne, PUMA is also partnering with The Cara Delevingne Foundation, a project part of The Giving Back Fund that supports LGBTQ+ organizations such as GLAAD, The Trevor Project, and Mind Out. PUMA has pledged to donate to the Foundation 20% of the proceeds from sales of the Pride collection, with a maximum amount of $250,000.
"We are proud to team up with Cara to celebrate Pride Month through this meaningful collection that will benefit LGBTQ+ organizations across the globe," said Adam Petrick, Global Director of Brand and Marketing at PUMA, in a press release.

He continued: "Cara's active voice as a leader and a member of the LGBTQ+ community made her a perfect partner to collaborate with on this pride-inspired project. It's more important now than ever to support each other and through this collection, it reminds us that we're always stronger together."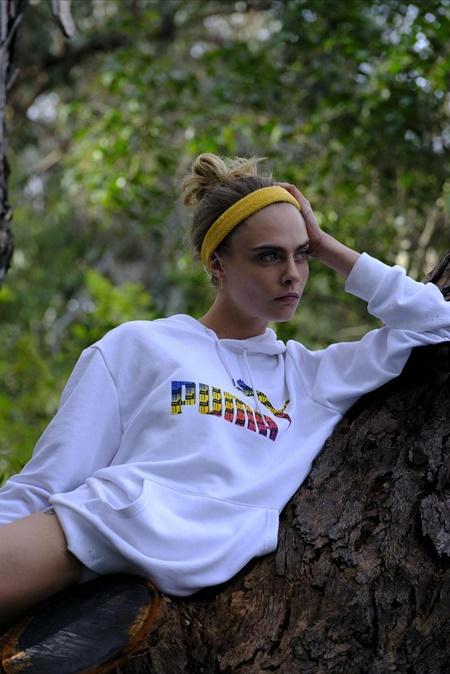 "This collection was designed and created with so much love," Delevingne said in the press release. "I was really looking forward to wearing it at this year's Pride celebrations that I was planning to attend but, given the circumstances, I can't wait to wear it and celebrate Pride month from my home via Zoom and FaceTime."

She adds, "Through my foundation, I am looking forward to making donations to LGBTQ+ organizations around the world who are making such a difference every single day. The LGBTQ+ community deserves to be celebrated and I'm so grateful PUMA partnered with me to create such a prideful collection."
This is not Cara Delevingne's first partnership with PUMA. In 2016, Delevingne became PUMA's ambassador, and they have since worked together to design a slew of apparel and footwear.
In 2019, they have also partnered with Balmain for a high fashion meets athleisure collection.
PUMA And The LGBTQ+ Community
PUMA didn't wait until Pride Month to commit. Earlier this year, the sportswear brand announced a $1 million partnership with The Trevor Project, an organization that fights suicide among LGBTQ+ youths. Together, they want to foster inclusive environments for young LGBTQ+ athletes.
Beware Of Scams
Other brands use Pride Month to sell rainbow-colored items that "promote" LGBTQ+ Pride without supporting LGBTQ+ rights.
Perhaps the best example is Donald Trump's LGBTQ Pride T-shirts.
So don't be fooled, you'll easily recognize these brands as they don't donate any profits to LGBTQ+ charities.
Conclusion
Once again, PUMA released a range of cool rainbow apparel to celebrate our LGBTQ+ Pride. PUMA is renewing its support for the LGBTQ+ community through this 2020 collection.
The "From PUMA With Love" pack is accessible via this link: puma.com/pride-pack