New Music Video by Queer Singer FLETCHER: "Becky's So Hot"

In the video for her song "Becky's So Hot," queer singer FLETCHER fantasizes about her ex's new girlfriend, and let's just say things get steamy, especially when the girlfriend in question is portrayed by pansexual actress and singer Bella Thorne. Things quickly heat up as the two stars share a passionate kiss. The clip is super hot and definitely worth a watch. If you're looking for a good dose of girl-on-girl action, this is the video for you!
Cari Elise Fletcher, better known as FLETCHER, is a queer pop singer-songwriter. She first gained attention in 2016 with her breakout hit "Wasted Youth" and has been steadily releasing new music ever since.
In anticipation of her debut album's release later this month, FLETCHER has shared a new song, "Becky's So Hot," after the release of "Her Body Is Bible" earlier this year.
With her unique blend of catchy pop hooks and personal lyrics, FLETCHER is quickly cementing herself as one of the most promising new artists in the music industry today.
Jealousy And Desire
We've all been there before. You see your ex out with someone new, and you can't help but have ugly feelings and being a little jealous. "Becky's So Hot" is a pop anthem that perfectly captures those complex feelings of jealousy and desire.
"Are you in love like we were? / If I were you, I'd probably keep her / Makes me wanna hit her when I see her," FLETCHER sings in the chorus. "'Cause Becky's so hot in your vintage t-shirt / Ooh, she the one I should hate / But I wanna know how she tastes / I kinda wanna hit her when I see her / Becky's so hot in your vintage t-shirt."
A True Story Behind The Song Lyrics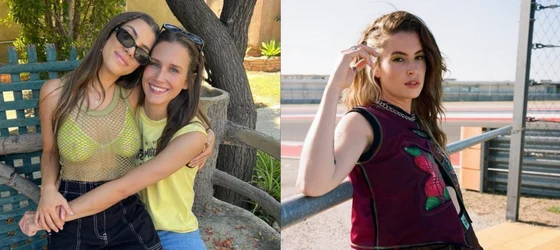 Instagram: FINDINGXFLETCHER, BECKYMISSAL
The song "Becky's So Hot" was inspired by a real person and a real situation.
"I was in the studio, stalking my ex-girlfriend's new girlfriend on Instagram, and I saw a picture of her wearing an old vintage t-shirt of my ex's," FLETCHER told Zane Lowe on Apple Music. "And it's one I've worn before as well. And I'm looking at the photo, and I'm like, 'Damn it, she's so hot.' And I accidentally liked the picture."
Fans speculated that the song was about Becky Missal, the current girlfriend of FLETCHER's ex-girlfriend, YouTuber Shannon Beveridge.
What was their reaction to the song? Well, Beveridge reacted on Twitter by simply saying "an empath would never," while Missal answered "no" when someone asked her on Instagram if she was giving a "thumbs up" to the song. Ouch....
Then, that quickly turned into a TikTok drama with people thinking that all of this was planned to get viral, but Beveridge made things clear.
"There's a lot that I want to say and I want to find a way to do it, but I just think there's some confusion I would like to clear up, personally, right now," she said. "Number one being that this is not PR that I'm a part of, this is not a collaboration. Number two, no one asked permission. I just want people to hear that from me because it does seem like there's confusion on if that is the case, and I just want you to know it's not."
But, even though the song is based on a true story, FLETCHER added additional details and complexities to make the song more accessible and interesting. Fletcher didn't want it to be solely about feeling jealous of another woman.
"It felt more interesting to me to write something from the perspective of being in awe of [Becky]," she said. "Sort of like 'damn… it kinda stings that she's so hot, but I can't even be mad about it because I get it… she's hot.'"
Watch The "Becky's So Hot" Video By FLETCHER
The video for the song "Becky's So Hot" by FLETCHER begins with the singer alone in bed enjoying herself. It then alternates between shots of FLETCHER singing her way through the city on a motorcycle or posed on a rock floating in space before getting steamier as Bella Thorne joins her. The video is set to the driving rhythm of the song and features FLETCHER's unique and sensual voice.
Check out the video for "Becky's So Hot" below:
Watch Out For The Release Of "Girl Of My Dreams"
FLETCHER is a fresh new voice in the music industry. She's talented, she's queer, and she's ready to take the music world by storm with her debut album "Girl of My Dreams," which will be released on September 16th. Her songs are honest and deeply personal and also very queer. Her voice is absolutely mesmerizing, and it's clear that she puts her heart and soul into every song.
Before the release of her debut album, FLETCHER raised the anticipation with the release of her EP "The S(ex) Tapes" in 2020. She also teamed up with Lesbian Jesus Hayley Kiyoko on "Cherry" and sampled Katy Perry's "I Kissed a Girl" on "Girls Girls Girls" last year.
Comments
No comments made yet. Be the first to submit a comment