Indeed, "Ammonite" has been selected to be screened at the Toronto International Film Festival (TIFF) to be held from September 10 to 19, 2020.
The TIFF organizers have decided to organize the festival differently this year, a way for them to save their jobs, 31 full-time staff positions have already been eliminated and they are estimated they will lose half of the projected revenue for this year.
"The pandemic has hit TIFF hard, but we've responded by going back to our original inspiration — to bring the very best in film to the broadest possible audience," Cameron Bailey, Co-Head and Artistic Director at TIFF, said in a statement. "Our teams have had to rethink everything and open our minds to new ideas. In countless video calls over the past three months, we have rebuilt our Festival for 2020, drawing on our five decades of commitment to strong curation, support for filmmakers, and engagement with audiences."
The festival will present only 50 new feature films and five short film programs compared to 300 last year.
During the first five days of the festival, physical and socially-distanced screenings, as well as drive-ins and other "outdoor experiences", will be offered.
Organizers are working with the Province of Ontario, the City of Toronto, and public health officials to ensure the safety of participants.
TIFF 2020 will also launch a digital platform in partnership with Shift72. There will be virtual screenings, red carpets, and industry talks throughout the ten days of the festival.
"TIFF has a proud history of programming award-winning films, expanding the conversation to include a multitude of voices, and in creating boundary-pushing initiatives for the industry. And this year we've added new innovations and ways to give back to the community. In doing so, we're aiming to advance what a film festival is capable of delivering — for audiences and the film industry," said Joana Vicente, Executive Director and Co-Head, TIFF, in a statement.
We will be able to watch "Ammonite" online in September via this platform that will be set up.
As a reminder, the story of "Ammonite" takes place in 1840.Mary Anning(Kate Winslet) is a well-known paleontologist, an archaeologist, someone who studies the past, but who is particularly interested in animals like dinosaurs.
Mary lives modestly with her mother on the south coast of England, where she finds ammonites that she sells to tourists. Ammonites are the remains of mollusks that lived millions of years ago and now look like carved stones.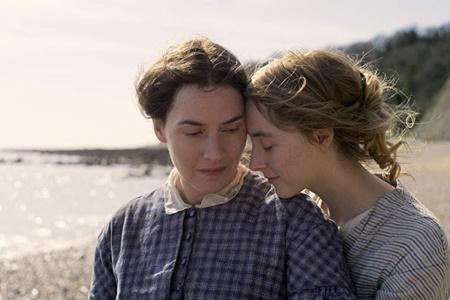 One day, she meets a wealthy visitor who entrusts her with the care of his wife Charlotte Murchison (Saoirse Ronan). Mary agrees. There is a complex relationship between the two women, who at first are opposed to each other, but a bond grows rapidly that inevitably leads them to live a beautiful, intense, and intimate romance.
For more information, the sale of tickets to come, visit the website tiff.net