"Flunk: The Sleepover"
"Flunk: The Sleepover" follows the relationship between Tabby (Madelyn Sheahan) and ex-girlfriend Heidi (Georgia Crisfield Smith), who appeared first in season 2 of the queer web series "Flunk".
In this film, the two young girls reunite after their breakup, fighting like cats and dogs. They're both invited to their friend's sleepover, but something tells me that this will end well for either party involved.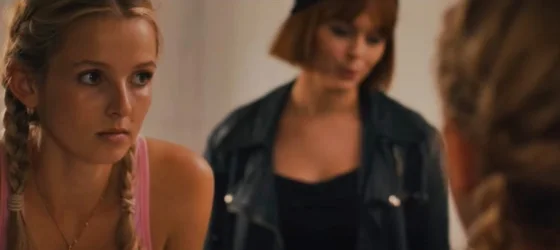 Tabby and Heidi
"Flunk: The Sleepover" is designed somewhat like a short film that takes place mainly over the course of one night.
It is certain that watching seasons 1 and 2 of the web series "Flunk" will bring a better understanding on how Tabby and Heidi's relationship works, but "Flunk: The Sleepover" is such an engaging story that even if viewers haven't seen seasons 1 & 2, they can still enjoy watching the movie.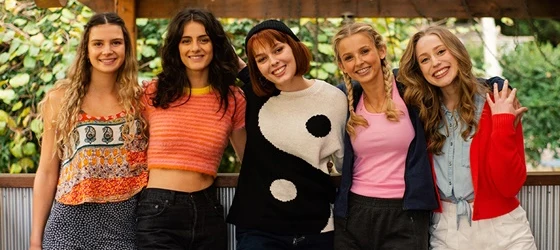 The cast of Flunk: The Sleepover: (from left to right) Astrid, Jaz, Heidi, Tabby, and Saffron.
I really enjoyed the acting. Neither one nor the other overacts. I felt almost uncomfortable - like both characters - watching these very tense reunions progress with such raw emotions being as Tabby and Heidi try to find out what happened between them after so long apart.
I also liked how the movie was made with such realism. If you like "Flunk: The Exchange," this new spin-off movie won't disappoint and is well worth watching.
The Trailer
The trailer for the film is intense and intriguing. It's already garnered a lot of attention. Here it is:
"Flunk: The Sleepover" is available in two versions. Choose between a complete movie or episodes to watch at your leisure.
Watch "Flunk: The Sleepover" in a long version
The full version of this movie is now available for purchase or rental on Vimeo. I remind you that every dollar contributes to the creation of new films inspired by the Flunk series, so please check it out: vimeo.com/ondemand/flunkthesleepover
Watch "Flunk: The Sleepover" as a series
Alternatively, you can watch the movie cut into episodes here: youtube.com/watch?v=cH5Uub0K_aE&list=PLGrorwvRrIpnsXHfv6woymdEBO8pU35Mj (note that new episodes continue to be added every week).