The 10 Most Challenged LGBTQ Books For 2019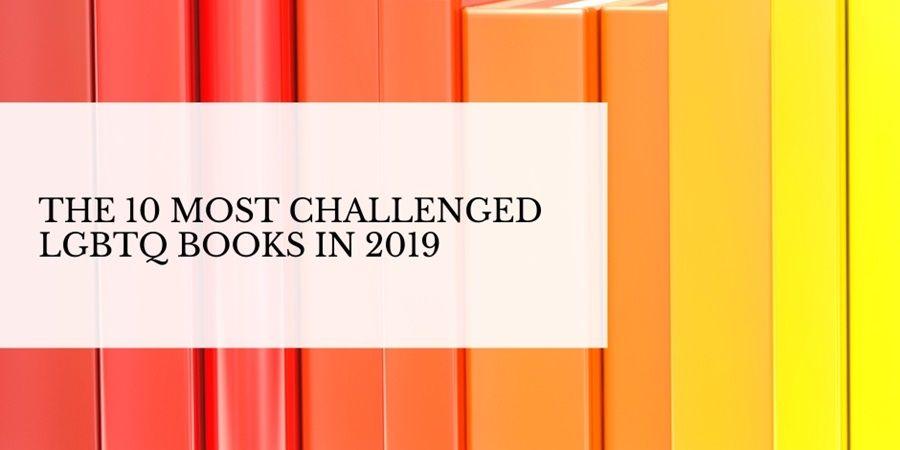 The American Library Association (ALA) released its annual report on banned or challenged books in schools, universities, and public libraries in 2019.
This time, we see that most of the challenges involve LGBTQ books.
Public libraries make books available on a wide variety of themes since their goal is to satisfy as many readers as possible.
Challenging a book is almost a request for censorship. Sometimes, it proves to be necessary. An example of this would be books defending hatred that do not belong in public libraries.
But this year, the ALA noted that most of the challenged books were LGBTQ books. In fact, 8 out of the 10 most challenged or banned books were related to our community.
"This year, we saw the continuation of a trend of a rising number of challenges to L.G.B.T.Q. books," said Deborah Caldwell-Stone, executive director of the library association's Office for Intellectual Freedom, which compiles the list.

"Our concern is the fact that many of the books are age-appropriate and developmentally appropriate books intended for young people, but they are being challenged because they allegedly advance a political agenda or sexualize children," she said. According to the association, the challenges came from parents, legislators, and religious leaders.

"Libraries are community institutions, intended to serve diverse communities," she added. "That includes all kinds of individuals and families."

In one year, patrons, administrators, political and religious groups, librarians, teachers, elected officials, and students filed 377 requests for book withdrawals.
In 2018, 347 books were banned or challenged. The ALA had already noticed an increase in attempts to censor LGBTQ stories.
Fortunately, these requests are not always successful, but the fact that they are made is still a cause for concern.
As the ALA has also pointed out, challenges often represent what is going on in society, and this is again the case this year.

Here's The List Of The Top 10 Most Banned or Challenged LGBTQ Books In 2019:
"George" by Alex Gino on a 10-year-old transgender child
"Beyond Magenta: Transgender Teens Speak Out" by Susan Kuklin
"Last Week Tonight With John Oliver Presents a Day in the Life of Marlon Bundo" written by Jill Twiss and illustrated by EG Keller is a gay romance between two bunnies.
"Sex Is a Funny Word" written by Cory Silverberg and illustrated by Fiona Smyth is a sex education comic book dealing with same-sex relationships and gender identity.
"Prince & Knight" written by Daniel Haack and illustrated by Stevie Lewis is a gay romance.
"I Am Jazz" written by Jessica Herthel and Jazz Jennings, and illustrated by Shelagh McNicholas, is a picture book that traces the life of Jazz, a transgender young woman.
"The Handmaid's Tale" by Margaret Atwood has also been challenged for its "profanity" and "vulgarity and sexual overtones," the ALA reported.
"Drama" written and illustrated by Raina Telgemeier follows a teenage girl passionate about theatre. It has been challenged for its LGBTQ references.
The "Harry Potter" series by J.K. Rowling (no kidding!) for references to magic, witchcraft, curses, and spells, and for characters who use "nefarious means" to attain goals.
"And Tango Makes Three" written by Peter Parnell and Justin Richardson, and illustrated by Henry Cole, which tells the true story of a gay couple of penguins raising a baby chick.
Stay Informed
When you subscribe to the blog, we will send you an e-mail when there are new updates on the site so you wouldn't miss them.
Comments
No comments made yet. Be the first to submit a comment